2000
Nestled away high in the more inaccessible canyons of the Davis Mountains is Tall Rockshelter, one of the most significant and spectacular prehis- toric rock art sites to be found in Trans-Pecos Texas. The site consists of an imposing rhyolitic canyon bluff forming a slightly arching overhang that is painted with a wide array of Indian pictographs, the most notable being a 17-ft. tall arrangement of superimposed horizontal and vertical lines-the latter capped with teardrop-shaped loops that may represent stylized human heads.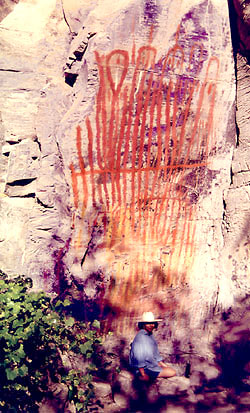 This remarkable pictograph panel was executed with six different colors of pigment, including red, orange, brown, white, black, and green. Other panels to the left and right of the centralized large panel consist of a variety of images, including additional line work primarily in red, orange, and white, numerous abstract designs, a human figure in black, and a stylized "dragonfly" in red. The shelter floor contains a buried record of occupation by prehistoric Indians spanning over one thousand years.
While known to archeologists since the 1930s, the remoteness and difficulty of access to the site discouraged professional investigation until only recently. Working in cooperation with the Texas Nature Conservancy, Buffalo Trail Boy Scout Ranch, Davis Mountains Educational Coalition, and the Department of Fine Arts at SRSU, CBBS director Robert Mallouf initiated the first of three field sessions at the site during the summer of 1999. This first one-week session focused on instrument mapping and preparation of the site for follow-up work.
The summer session ended abruptly when heavy rains resulted in stuck vehicles and a long hike out for crew members. In November 1999, Mallouf and a group of SRSU anthropology students returned to conduct subsurface test excavations at the site, resulting in the scientific recovery of stratigraphic information, artifacts, and the first radiocarbon samples to be obtained from the site.
A third week-long session at the site was carried out in March 2000, during which additional instrument mapping and excavations were undertaken by Mallouf and crew, and extensive rock art recording was accomplished under the guidance of SRSU Fine Arts professor Bob Hext. Several members of the Texas Archeological Society Rock Art Task Force as well as staff of the CBBS helped with rock art documentation.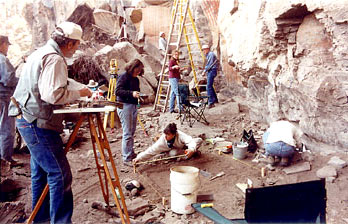 Excavations at the site indicate that most human occupation of the shelter was by nomadic hunter-gatherers between 500-1500 A.D. Detailed laboratory analysis of recovered materials and data from Tall Rockshelter is currently underway at the Center for Big Bend Studies on the campus of Sul Ross State University.
Special studies, including radiocarbon assays, pigment analysis, faunal analysis, and macrofossil studies are expected to yield a great deal of information concerning lifeways of the peoples who created the magnificent paintings here. In addition, the CBBS is working with the Texas Nature Conservancy, Buffalo Trail Boy Scout Ranch, and the Davis Mountains Educational Coalition to develop a long-range plan for the management and protection of this privately owned, highly significant archeological property.
— Robert Mallouf