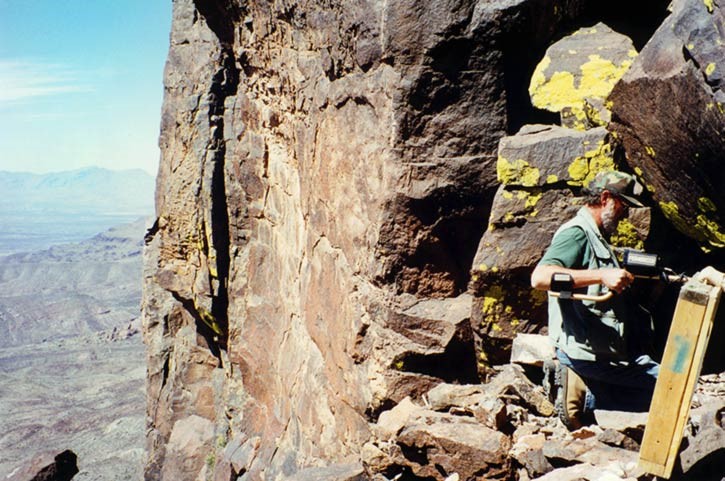 Robert Mallouf
Director 1995-2008
Center for Big Bend Studies
Sul Ross State University
Ferguson Hall, Suite 114, Box C-71
Alpine, TX 79832
Phone: 5987-683-(234)
Fax: (432) 837-8381
Email: moc.liamg@fuollamtrebor
Robert Mallouf
Robert J. Mallouf has been conducting archeological research and preservation work in Texas for over 50 years and served as Texas State Archaeologist from 1981 to 1995, and as director of the Center for Big Bend Studies and assistant professor of anthropology at Sul Ross State University from 1995 to 2008, when he retired. He has authored numerous publications related to the archaeology of Texas, as well as western Kansas and northeastern Chihuahua, Mexico. Mallouf received B.A. and M.A. degrees in anthropology from the University of Texas at Austin, and also studied at the University of California at Berkeley and the American University of Cairo, Egypt. A native of Brownwood, Texas, his background includes work as varied as commercial fishing in the Gulf of Mexico, marketing in California, and forestry and rescue work with the National Park Service in Arizona. Robert and his wife Becky live in Alpine, Texas.
Selected Publications
Mallouf, R. J. and Curtis Tunnell
1977 An Archaeological Reconnaissance in the Lower Canyons of the Rio Grande. Office of the State Archaeologist Survey Report 22, Texas Historical Commission, Austin.
Mallouf, Robert J.
1982 An Analysis of Plow Damaged Chert Artifacts: The Brookeen Creek Cache, Hill County, Texas. Journal of Field Archaeology 9(1):79-98.
Mallouf, Robert J.
1987 Las Haciendas: A Cairn-Burial Assemblage from Northeastern Chihuahua, Mexico.Office of the State Archaeologist Report 35, Texas Historical Commission, Austin.
Mallouf, Robert J.
1989 A Clovis Quarry-Workshop in the Callahan Divide, Taylor County, Texas. Plains Anthropologist 34(124), Part 1:81-103.
Mallouf, Robert J.
2000 An Unraveling Rope: The Looting of America's Past. In Repatriation Reader: Who Owns American Indian Remains?, Devon Mihesuah, ed., pp. 59-73. Bison Books, University of Nebraska Press.
Mallouf, Robert J.
2005 Late Archaic Foragers of Eastern Trans-Pecos Texas and the Big Bend. In Current Perspectives on the Late Archaic Along the Borderlands, Bradley Vierra, ed., pp. 219-246. University of Texas Press.
Mallouf, Robert J., W. A. Cloud, and R. W. Walter
2006 The Rosillo Peak Site: A Prehistoric Mountaintop Campsite in Big Bend National Park, Texas. Papers of the Trans-Pecos Archaeological Program 1, Center for Big Bend Studies, Sul Ross State University.