Prehistory in the Trans-Pecos—Rio Grande Wilderness of the Sierra Vieja
ANTH 3601 June 1 to July 3, 2015
This is a fun and exciting opportunity to study archaeology, hands-on, in beautiful West Texas, and a chance to contribute to archaeological research in the remote, scenic reaches of the borderlands.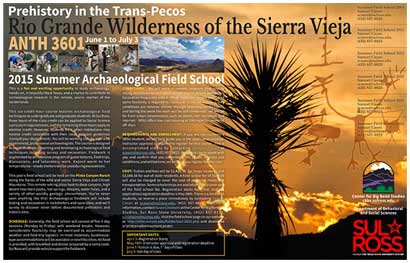 Download the 2015 Field School Poster (6.76mb PDF)
You will be working side-by-side with experienced, professional archaeologists. The course is designed to assist students in learning and developing archaeological field techniques including survey and excavation. Fieldwork is augmented by an intensive program of guest lectures, field trips, discussions, and laboratory work. Expect warm to hot temperatures—shade shelters will be used during excavations.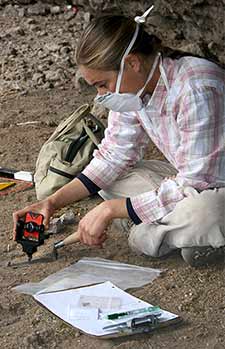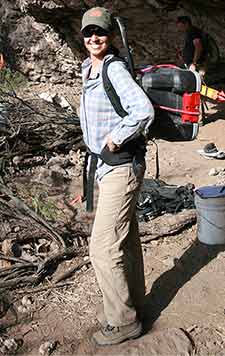 This year's field school will be held on the Pinto Canyon Ranch along the flanks of the wild and scenic Sierra Vieja and Chinati Mountains. This remote setting plays host to deep canyons, high desert mountain peaks, hot springs, streams, water holes, and a variety of other-worldly geologic phenomenon. You've never seen anything like this!
Archaeological fieldwork will include testing and excavation in rockshelters and open sites, and we'll survey to discover never-before-documented prehistoric and historic sites.
Schedule: Generally, the field school will consist of five 5-day sessions (Monday through Friday) with weekend breaks. However, considerable flexibility may be exercised to accommodate weather and field trip logistics. In most instances, bunkhouse-type accommodations will be available in ranch facilities. All food is provided, with breakfast and dinner prepared by a camp cook. Sul Ross will provide vehicle support for fieldwork.
Conditions: We will work in remote locations that require hiking on uneven terrain, often amidst thorny desert vegetation. Excavation frequently entails lifting moderate weight loads, and some flexibility is required to maneuver in the work area. Living conditions are likewise remote (though relatively comfortable) and during the week the team will be self-contained—we will be far from urban conveniences such as stores, cell reception, and internet. SRSU offers low-cost housing at $30/night for weekend off-days.
Requirements and Enrollment: If you are not currently an SRSU student, we will help guide you in the application process. Instructor approval is required to register for this course. We would like to speak with you and confirm that you understand the course itinerary and conditions and at that time, we will help you register for the class.