The 2002 Sul Ross State University Archeological Field School was held from May 29-July 1 at The Nature Conservancy's Diamond Y Spring Preserve in Pecos County, Texas. The preserve currently encompasses 1,502 acres, the focus being Diamond Y Spring which forms a reservoir containing several species of endangered fish. Robert J. Mallouf and William A. Cloud of the Center for Big Bend Studies of SRSU conducted the field school, which contained nine students.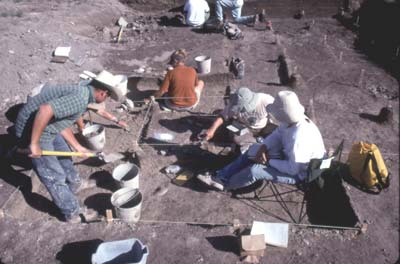 The field school concentrated upon buried archeological deposits at a site called Horned Flats. The site is buried from 50-120 cm below the surface in an alluvial setting, although the cultural deposit itself is only 5-6 cm thick. Based on workmanship of a medial dart point fragment recovered during an earlier investigation and the stratigraphic setting, the site has been tentatively assigned to the Early Archaic period (ca. 6500-3500 B.C.). While our findings from the field school failed to confirm such a date, they did result in the documentation of an intact hearth. The presence of the hearth provided clear evidence that the cultural deposits were in a primary setting (i.e., had not been extensively relocated through erosive or other forces). A total of 27 units (each 1 x 1 m in size) were excavated at the site, recovering relatively minimal amounts of cultural debris associated with this cultural lens-a single scraper, several utilized flakes, and a core fragment comprise the newly recovered tools; less than 150 pieces of debitage (i.e., waste debris from the manufacture of stone tools) were also recovered.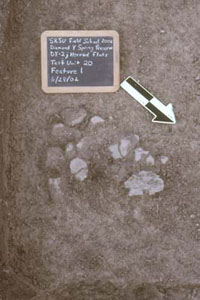 Our findings strongly suggest the site contains a single component (i.e., evidence of a cultural occupation or presence from as short as one day to as long as about 20 years by a single group of people)- this is primarily due to the dearth of recovery. We took soil samples from the hearth and from a stratigraphic profile within our excavation and hope to be able to obtain one or more sediment (soil matrix) dates from these in the near future. Two of the sites on the preserve that The Nature Conservancy knew of were also recorded during the field school-they were named Bennett Knoll and Tejon Midden. Temporal and functional diagnostic materials were recovered from surficial contexts at both of these sites.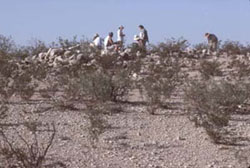 Prehistoric and historic debris was documented at Bennett Knoll along with at least three stone features. The prehistoric materials are relatively thin and can only be assigned broadly to prehistoric times. The stone features and overall setting are reminiscent of fortified walls and alcoves that accompany some temporary Buffalo Soldier encampments on high points in West Texas, and at least some of the artifacts recorded seem to lend credence to this possibility.
At Tejon Midden, 22 features were recorded including a large complex ring midden, a smaller pristine ring midden, and a somewhat unusual pit. Ring middens are remnants of features used to process various desert succulents (sotol, agave, and yucca hearts are thought to have been the resources processed in this manner)-these features can collectively be termed earth ovens.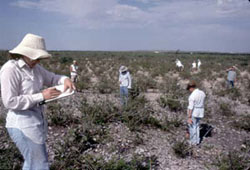 The materials being cooked were placed in a rock-lined pit along with combustible materials that were ignited, then buried for several days. Retrieving the cooked materials generally left a donut-shaped mound of burned rocks. In the Trans-Pecos these types of features have been dated from approximately A.D. 500 through the Historic period. The site as a whole yielded dart and arrow points indicating the presence of multiple components over a lengthy period of time (ca. 6500 B.C.-A.D. 1550).
The materials recovered during the field school are being analyzed by students during a class this fall (Fall 2002) at Sul Ross State University -Laboratory Techniques in Archeology. Data from the fieldwork and laboratory class will ultimately be assimilated and written up in a publishable archeological report. -W. A. Cloud
---
Sul Ross Archeology Field School: An Outdoor Classroom for Real Research
By Nancy Blanton
Sul Ross State University News Writer
Nine students from Sul Ross State University are having their summer in the sun, but they're not catching rays on the coast.
This summer, these students are gathering archeological evidence of archaic people that once occupied the Trans Pecos as part of the Center for Big Bend Studies Archeological Field School. In this summer session class they are learning the rudiments of field archeology by researching an actual site at The Nature Conservancy's Diamond Y Springs Preserve north of Fort Stockton.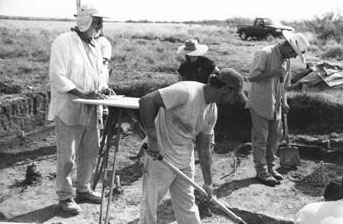 Under the supervision and instruction of Bob Mallouf, director of the Center for Big Bend studies, and Andy Cloud, instructor, and assistant Warren Kinney, the nine students will spend a total of six weeks not only learning excavation techniques, but also how to survey and map an archeological site.
"When we do complete field research, the work is not over, it is just beginning," said Mallouf. "Our philosophy is that the best way to teach archeology is to put the students in the shoes of the professional researcher."
That's our objective during field school; it is to bring students into original research, then follow through with the publication of that information. The opportunity for students to do original research that is shared with the real world is what differentiates this field school from others."
"It's a lot more intense than I expected," said Anna Marie Darden, junior public relations major from Uvalde. "It's more than just coming out here with a paintbrush. It's also digging, hiking and sweating!"
Darden was joined by Kendra Luedecke, Fort Davis, a junior history major; Brady Gotcher, Coreyville, a senior biology major; Andrea Schulz, Euless, history major; graduate student Josh Gibbs, Houston; Stephanie Mueller, La Grange, history major; Becky Winters, Seminole, senior kinesiology major; and criminal Justice majors Bobby Gray, Fort Davis and John Miller, Stillwell Ranch.
Prospects of contributing new information as they learn the basics of field archeology fueled the students enthusiasm. They dug and sifted under the blazing sun for days. They walked transects, enduring thorn scratches as they searched for the smallest evidence that may provide more definition about the archaic peoples in the Trans-Pecos. Many of the students plan to continue studying archeology in graduate school or to find a way to incorporate it into their careers.
"I've always had an interest in archeology, " said Luedecke. "After this experience and I'm still out here – I think I'll stay."
Excavating an archeological site involves patient digging for hours in a shallow pit under a sun-tarp with a trowel or small shovel. Next the workers sift excavated soil through screens, seeking artifacts that either indicates the time period, technology in use, or both. At this site the students mix the excavated soil with water.
"We can't screen the dirt dry," Luedecke said. "There is high clay content. We tried to remove the dirt for the site and dry it, [but]it becomes so hard when it dries it takes much longer to screen. With this method, the artifact recovery is better."
The students rotate jobs between digging and sifting.
"Under the tarps where the digging is going on, the sun isn't as intense but it's hot there because there isn't much airflow," said said Gotcher. "Outside, working the grates is hot also because it is directly under the sun – but at least there is a breeze."
When they aren't excavating, the students learn ground survey and mapping techniques. This means walking in transect line across a section of field covered with thorny mesquite bushes, two meters apart from each other and scanning the immediate ground area for artifacts. Each found piece is a clue to when and what the archaic people were doing at the site.
"It's more than Indiana Jones archeology because there is more of a science to it than collection," said Becky Winters.
Little information is available on the society of people who lived in Trans Pecos Texas during the archaic time period (6500 BCE – 700 CE) and the sites the students are studying contain evidence of occupation from the early and late section of the period.
"We are looking at what was a saline marsh environment and what was the attraction for the people that were here. Perhaps there were here for they water, but likely, they were here for the plant source," said Mallouf. "Many of the plants would have been salt- water adapted plants, somewhat uncommon in this area. These plants may have provided material for tools, food, or weapons that they could not get anywhere else."
A portion of the site the students were surveying surrounded a rock midden – a pile of rocks that once lined the underground baking pits. Major sources of food for the archaic people were steamed or roasted root bulbs of agaves. When the rocks that lined the baking pits fractured from heat they were removed and piled to the side.
"We can't tell if this was a large group that settled here for a short period of time to create this size of midden or if it was a smaller group that used the site consistently," said Mueller.
After several days of intensive excavation and surveying, long awaited seasonal rains to the plains of West Texas occurred one evening. The next morning, the excavation site was filled with water. The delay provided time to take the scheduled field trips to the Big Bend and New Mexico.
One week later, when they returned to the excavation, the students were rewarded for their hard work. They uncovered a grouping of rocks that indicated that it was one time a hearth site for the people who were here thousands of years ago.