CBBS to Sponsor Texas Archeological Society Field School in 2000
---
The View from the Chihuahua Trail
from La Vista de la Frontera 2000 Vol. 13(1):2-3.
As 1868 came to a close, the heavy wagons creaked and groaned under the weight of cargo headed for Chihuahua. From San Antonio the wagons had followed the Chihuahua Trail along the Military Road to the west through Fort Clark, Camp Hudson, Fort Lancaster, and Fort Stockton. From Fort Stockton the trail had turned southwest to Burgess Spring (now Alpine) and the Big Bend, following Alamito Creek to Presidio, and ultimately on to Chihuahua City.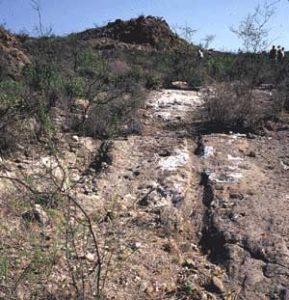 The lumbering train was entering the valley of Alamito Creek and following the trail toward Tinaja San Estéven. A bluff-rimmed mesa walled the valley to the east, and to the west were high ridges and hills. Legend had it that a group of hapless Mexican soldiers had been killed years before at the tinaja by the Apache. It is said that each year on the date of the battle if you will climb to the crest of the bluff above the tinaja at sunset, you can hear the voices of the dying soldiers echoing from the small rock canyon (Mellard 1973).
You too might chance to hear the soldiers' lament if you join us on the Alamito for the Texas Archeological Society's Field School 2000, as you will be camped less than a quarter of a mile from the historic Chihuahua Trail (the wagon ruts of which are still visible in the bedrock) and the famous tinaja and large rockshelter of San Estéven (San Esteban).
Located only a few miles south of Marfa, Texas, and north of La Junta de los Rios, FS 2000 will take place in an area of considerable historical significance. Alamito Creek, the largest Texas tributary of the Rio Grande in the Big Bend, was a major north-south route of travel both prehistorically and historically. Prehistoric pithouse village sites of the La Junta Phase (A.D. 1200-1400) are known to occur up the Alamito at least as far as Casa Piedra, only a few miles downstream from the field school headquarters. Subsequent to Cabeza de Vaca's sixteenth-century sojourn into the Big Bend, this important stream was explored by early Spanish entradas into La Junta de los Rios at Presidio, Texas. This area and region were historically the stomping grounds of the Jumano, Mescalero Apache, and Buffalo Soldiers as well, and the last of the great Apache warchiefs, Victorio, was killed only a short distance to the northwest at Tres Castillos in Chihuahua.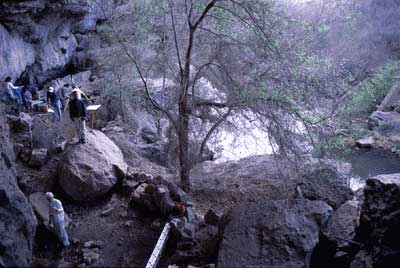 Although very poorly known archeologically, the immediate area of the field school contains a wide variety and temporal range of cultural sites, including rockshelters with rock art, open prehistoric campsites, toolstone quarries, cairns, historic ruins, a historic dam and canal system (all dry)-even a historic railroad camp where Hispanic workers walled-up natural rockshelters for habitations.
Throw in a mammoth locale (probably a natural death) for good measure, and you have an idea of the range of sites that will be available for study, all within a mile or so of our field headquarters. A total of some 200,000 acres, all privately owned, will be accessible for Field School use, however.
Headquarters will be established at an unoccupied ranch complex within a few hundred meters of a paved farm-to-market road. The complex includes a well-maintained house with adjoining sheds, a large metal barn, and other facilities. Utilities and water are both available at the ranch, and there is plenty of level space surrounding the complex for the set-up of tents, trailers, campers, and portable toilets. The closest motels are in Marfa, about 15 miles to the north. We expect to have a good line-up of evening speakers and special programs.
It should be noted that June-August is the "rainy season" in the Big Bend and occasional fast-moving thunderstorms are anticipated (less than a 50-50 chance), so come prepared. It will be hot, but not downright murderous as in La Junta to the south, as we will be at a considerably higher elevation. Bring canteens, sunscreen, hats, and long sleeve, light cotton shirts. All participants will be expected to comply with normal TAS procedures regarding private property. We are fortunate to have gracious and interested landowners for this session, and we plan to follow their stipulations to the letter.
The Texas Archeological Society's Field School 2000 is being held in conduction with Sul Ross State University's Archeological Field School which will begin on May 30 and end on July 3, 2000. The SRSU Field School can be taken for six credit hours. The TAS Field School will be held June 10-19, 2000, and membership in TAS is required. Center Associates who are interested in attending the TAS Field School should contact the TAS office in San Antonio or visit their website at www.txarch.org. For students or Center Associates interested in attending or visiting the SRSU Field School, contact Robert Mallouf at (915)837-8179.
Some Suggested Readings:
Ing, J. David, Sheron Smith-Savage, William A. Cloud, and Robert J. Mallouf
1996 – Archeological Reconnaissance on Big Bend Ranch State Park, Presidio and Brewster Counties, Texas, 1988-1994. Center for Big Bend Studies Occasional Papers 1. Sul Ross State University, Alpine.Kelley, J. Charles
1986 – Jumano and Patarabueye: Relations at La Junta de los Rios. Anthropological Papers 77. Museum of Anthropology, University of Michigan, Ann Arbor.Kelley, J. Charles, T. N. Campbell, and Donald J. Lehmer
1940 – The Association of Archaeological Materials With Geological Deposits in the Big Bend Region of Texas. West Texas Historical and Scientific Society Publication 10. Sul Ross State Teachers College, Alpine.Lehmer, Donald J.
1958 – A Review of Trans-Pecos Texas Archeology. Bulletin of the Texas Archeological Society 29:109-144.
Mallouf, Robert J.
1985 – A Synthesis of Eastern Trans-Pecos Prehistory. Unpublished Master's thesis, Department of Anthropology, University of Texas at Austin.
1993 – Archaeology in the Cienega Mountains of Presidio County, Texas. The Artifact 31(1):1-44.
1999 Comments on the Prehistory of Far Northeastern Chihuahua, the La Junta District, and the Cielo Complex. Journal of Big Bend Studies 11:49-92.
Mellard, Rudolph
1973 – The Chihuahua Trail-1868. Anson Jones Press, Salado. (historical fiction)
Peabody, Charles
1909 – Reconnaissance Trip in West Texas. American Anthropologist 11:202-216 (discusses the San Esteban Rockshelter).
Raht, Carlysle Graham
1963 – The Romance of Davis Mountains and Big Bend Country. The Rahtbooks Company, Odessa.
Santleben, August
1910 – A Texas Pioneer: Early Staging and Overland Freighting Days on the Frontiers of Texas and Mexico. The Neale Publishing Company, New York.
Thompson, Cecilia
1985 – History of Marfa and Presidio County, 1553-1946. Nortex Press, Austin.
---
Cooperative TAS-SRSU Archeological Field School Breaks New Ground
from La Vista de la Frontera Vol. 14(1):14-15, 18.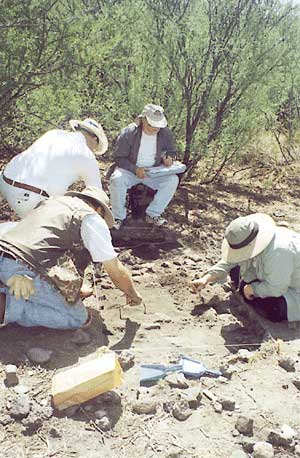 The Department of Behavioral and Social Sciences and the Center for Big Bend Studies of Sul Ross State University, along with the 1,700-member strong Texas Archeological Society, one of the oldest archeological societies in the United States, joined forces in June 2000, to conduct a cooperative archeological field school in the Big Bend near Marfa, Texas. Over 370 persons, including TAS members, SRSU students and faculty, students from other universities, visiting lecturers, and CBBS advisory council and staff members participated in the field school. CBBS staffers Robert Mallouf and Andy Cloud, both longtime members of the TAS, directed the project in cooperation with area landowners and their ranch personnel. A major objective of the project was gathering preliminary data from prehistoric and historic archeological sites in a carefully selected area of the Marfa Plain, a major physiographic feature of the Big Bend that was virtually unknown archeologically prior to the field school. Field headquarters were established at an unoccupied ranch complex, and most participants camped in designated adjacent areas, forming a temporary "tent city" complete with field laboratory, meeting hall, mess hall, bathrooms, showers, and other field amenities supplied by the TAS.
The primary study area, a large, privately owned ranch on Alamito Creek, was divided into seven areas (Areas A-G) for purposes of field work. Areas A-E consisted primarily of high elevated grasslands and arroyo systems of the Marfa Plain. Area F comprised the main stem Alamito Creek basin, while Area G included the basaltic Frenchman Hills and attendant drainages such as Perdiz and Julia creeks.
A total of 128 new archeological sites were located and subjected to varying levels of recording by the field school participants. A very large percentage of new sites, consisting primarily of small rockshelters, were found in the vicinity of a massive outcropping of volcanic tuff along Alamito Creek. As suspected, in addition to prehistoric components, many of these sheltered sites contained recent historic components from the 1929 construction of the nearby Kansas City, Mexico, & Orient Railroad.
Using high tech equipment, surface examination, and aerial mapping, a group of researchers dubbed the "Chihuahua Trail Crew" successfully traced out segments of that historic trail to the north, east, and south in the Alamito Creek basin near a large, historic spring where bedrock wagon ruts were obvious. A few miles to the south of the main project area at the historic settlement of Alamito (Plata), we added still another chapter to our Chihuahua Trail research. At this location we investigated the 1870s Davis-Herrera adobe homesite, school, and chapel complex, which was an important stopover for travelers on the trail. Unlike the other two structures, the chapel had long been lost to erosion, but was relocated using local informants, high tech instrumentation, and good old fashioned trenching. The challenging Chihuahua Trail project proved to be of great interest to all of the field school participants, and the encouraging results have given us impetus to look for additional trail segments in the future.v
Our surveys in the high grasslands of the Marfa Plain resulted in recording 18 new prehistoric campsites and a historic military dump related to the period 1910-1920. This work constitutes our first substantive look at sites of the grasslands and provides the basis for future investigations. Segments of Antelope and Chambers draws yielded some of our best evidence for Early and Middle Archaic peoples (ca. 6000-1000 B.C.) living in partially stabilized dune systems. Minor test excavations carried out at three sites in dunes are providing preliminary data concerning prehistoric use of the high grassland areas through time.
The presence of a mammoth site in a tributary arroyo of Alamito Creek caused the juices to flow for field school participants having interest in early Paleoindian sites. Although minor testing and geomorphological studies at the site did not yield conclusive evidence of a kill, the data suggests that closing the books on the site might be premature. We still have the possibility of a kill by Clovis hunters (ca. 9500-9000 B.C.) and are continuing to monitor the site. The only definitive evidence of early Paleoindians, however, came with discovery of a Folsom (ca. 9000-8000 B.C.) point preform at the end of the field school. Subsequent inspection of the area of the find failed to yield additional Folsom material, but follow-up work is planned. Test excavations at a horizontally extensive open campsite containing hearths and other burned rock features along Alamito Creek are yielding sorely needed data on Late Archaic and Late Prehistoric (ca. 1000 B.C.-A.D. 1550) occupations of the Alamito Basin proper.
Another significant undertaking of the field school involved investigations at a historic rockshelter and spring. The spring was a well-used stop on the Chihuahua Trail and the adjacent rockshelter contains significant prehistoric and historic rock art and deep floor deposits. Unfortunately, the rockshelter has been severely damaged through the years by uncontrolled digging that may have begun as early as the late nineteenth century. Our objectives here included instrument mapping of the shelter, testing for undisturbed floor deposits, and detailed recording of the rock art-all of which were met. Cleaning the walls of a large pothole in the shelter revealed a small area of undisturbed, well-stratified deposits from which a series of special samples, including chronometric (C14) and macrofossil samples, were recovered.
Much of the field school effort was focused in portions of the Frenchman Hills and along significant tributaries of Alamito Creek such as Perdiz and Julia creeks. It was knowledge of major toolstone sources of chalcedony in exposures of Petan basalt of the Frenchman Hills that led us to this location for the field school. With the assistance of ranch personnel familiar with the area, a series of five open prehistoric campsites on Perdiz Creek were selected for testing prior to the arrival of the field school participants. These included the Windy Springs, Metate, Gallie, Lost Pottery, and Perdiz Creek sites. Mapping and minor test excavations conducted at these sites yielded a significant database for Late Archaic (ca. 1000 B.C.-A.D. 1000) and Late Prehistoric (ca. A.D. 1000-1550) occupants of the Alamito basin. Excavations were directed at obtaining midden samples, exploring burned rock features including a variety of hearth types, and obtaining chronometric samples for assay. Survey teams in the Frenchman Hills were focused on recording chalcedony sources and sites in varying landforms away from the main-stem creeks.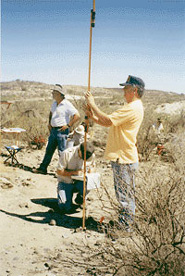 And finally, the field school pursued rock art locating and recording with a vengeance. All rock art at the large rockshelter mentioned above was recorded in detail. Having done so, the rock art team was moved about 20 miles downstream on the Alamito to a ranch in the Casas Piedra area where a massive tuff exposure with innumerable small rockshelters was thoroughly searched, surprisingly yielding only one additional rock art site. Notably, the rock art team maintained great enthusiasm even in the face of disappointment.
Folks handling the field laboratory work did a superb job, and lab technicians now working with the collections at the Center for Big Bend Studies (SRSU) have not run into any major problems since picking up where they left off. Work with the collections has progressed well since the closing of the field school. Having obtained permanent site designations for the recorded sites, we recently completed cataloging of the collections. Analysis of faunal material has been recently completed by our resident TAS bone specialist in Houston, and the sorting, inventorying, and analysis of artifacts is underway.
The morning of the last day of field school-Saturday, June 17, 2000-started out rather uneventfully as folks packed their gear and began heading for home. The TAS equipment trailer was loaded by mid-morning and the cook trailer was secured and readied for transport. For many folks that Saturday, thoughts became centered on what they were returning to-rather than the Big Bend they were leaving behind. Very few actually know what they missed as the day progressed.
The weather began to change as the last few taillights headed north for Marfa on Hwy. 169, and for those of us left behind it seemed at first as though we could expect a nice mid-day shower to cool things off. Not a big deal, we thought. By early afternoon we were in a downpour that showed no sign of letting up, and in fact didn't until well after dark. By 6:00 p.m. the entire camp area was under 3-4 inches of water, with no end in sight. The arroyos were all flash-flooding. Trucks that had gone in to remove port-o-potties across the ranch were hopelessly stuck and abandoned abruptly by their crews, some of whom had to wade across raging torrents in order to hike back to the highway. If the field school had not broken camp a few hours earlier, we would have had an unbelievable mess with tents full of water and vehicles and trailers stuck for days. And so everybody-this is what you missed!
Speaking for my staff and myself, we hope everyone enjoyed the field school as much as we did. From an archeological standpoint it was a real success, as we fulfilled our original goal of establishing a baseline data set for this archeologically poorly known area of the Big Bend. We went in knowing very little, and came out with a broad-if preliminary-understanding of the kinds, densities, and conditions of local archeological sites. We fared well in the area of public relations as well. The town of Marfa benefited economically from the field school's presence, and townsfolk expressed strong interest in what we were doing. The local newspaper (The Big Bend Sentinel) issued a very positive and informative article about the field school, as did other area newspapers. And most importantly, we left with the knowledge that the landowners were pleased with what we had accomplished and what we will ultimately learn about the ancient and historic peoples that once lived on their property.   -R. Mallouf