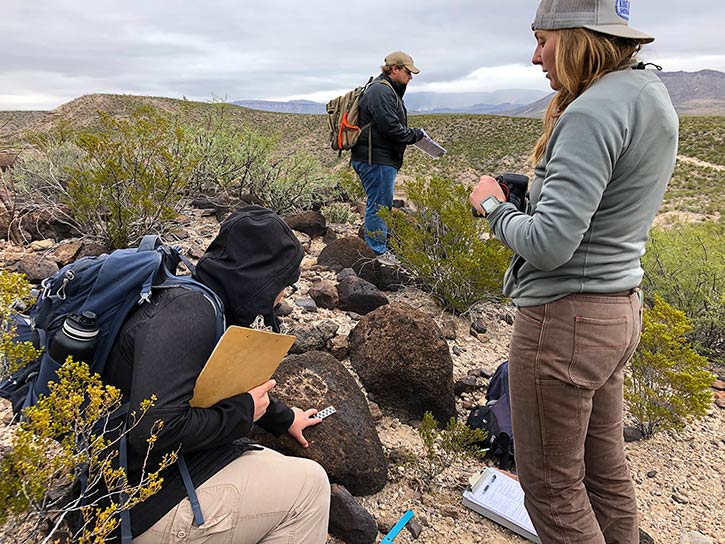 Erika Blecha
Project Archaeologist
Center for Big Bend Studies
Sul Ross State University
Ferguson Hall, Suite 114, Box C-71
Alpine, TX 79832
Phone: 432-837-8779
Fax: (432) 837-8381
Email: erika.blecha@sulross.edu
Erika Blecha
Erika received her B.A. in Anthropology from the University of California at Berkeley and an M.A. in Archaeology from the University of Montana. While in school, her research interests extended from Mesoamerica to reservation-era archaeology, and federal management of archaeological sites in wilderness areas. She has been a professional archaeologist since 2009, working as an archaeological field technician, crew chief, GIS specialist, and now, project archeologist. She loves to travel and has conducted archeological work throughout the central coast of California (where she is from), Nevada, Montana, and Wyoming, as well as Belize, Honduras, and along the coast of Peru. Erika is currently researching the spatial and iconographic patterns of the boulder petroglyphs. Her interests include GIS, hunter-gatherer violence, and Late Prehistoric human lifeways.
Selected Publications
Blecha, Erika S. and Robert J. Mallouf
2020 Prehistory in the Calamity Creek Valley, Brewster County, Texas. Papers of the Trans-Pecos Archaeological Program No. Y. Sul Ross State University. Alpine, Texas.
Schroeder, Bryon A., David Keller, and Erika S. Blecha
2019 An Introductory Field Guide to the Archaeology of Pinto Canyon Ranch in the Big Bend of Texas. Sul Ross State University. Alpine, Texas.
Cloud, William A., Erika S. Blecha, and Robert J. Mallouf
2019 Archaeological and Historical Research on the 02 Ranch, Brewster and Presidio Counties, Texas. Submitted to Lykes Brothers Inc. Tampa, Florida.
Blecha, Erika S.
2019 Boulder Glyphs: Evolving Hypotheses About Boulder Glyphs of the Sierra Viejas. La Vista de la Frontera, 29:1-2, 14
Blecha, Erika S. and Kelly J. Dixon
2015 Early Reservation Era Survey Results for 24RB0164: Birney Day School Village. Submitted to Chief Dull Knife College and the Northern Cheyenne Tribal Historic Preservation Office, Lame Deer, MT.