Journal of Big Bend Studies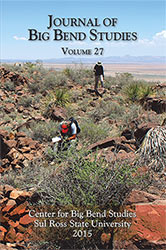 William A. Cloud, Series Editor
Pat Dasch, Editor(s)
Letitia Wetterauer, Designer

©2015 Center for Big Bend Studies
143 pages
$15.00
Order Online   Order Form

Table of Contents
Camp Mayers Spring, Texas, 1880–1884
Thomas Ty Smith
Located in Terrell County, 16 kilometers (10 miles) northeast of Dryden, Texas, Camp Mayers Spring served as a small U.S. Army sub-post of Fort Clark from September 1880 to July 1884. Built on a ranch owned by Lieutenant John Lapham Bullis, the outpost protected a reliable water source today called Meyers Spring, and guarded both a new road to Fort Davis and the construction of a portion of the Southern Pacifi c Railroad. Established by a company of the 1st Infantry Regiment, the post was garrisoned by rotating companies of the 8th Cavalry and the Detachment of Seminole-Negro Indian Scouts. The diary of Lieutenant Francis Henry French, commanding the Detachment of Seminole-Negro Indian Scouts at Camp Mayers Spring, gives historians a very detailed, accurate, and colorful picture of life at the outpost.
A Landscape Approach to Archaeological Distribution Patterns at Chilicote Ranch, Presidio and Jeff Davis Counties, Texas
David Carmichael and Terry Franklin
The University of Texas at El Paso 2014 summer archaeological fi eld school was hosted by the Ysleta del Sur Pueblo at the Chilicote Ranch near Valentine, Texas. The project consisted of intensive pedestrian survey of a variety of landform settings, but focused especially on the examination of cuestas and mesas lying between the Sierra Vieja Mountains and Wild Horse Draw. Sites located on several ridgetops contained a total of 56 full or partial rock enclosures. Some of the features are probably rock-based wickiups, but others appear to be hunting blinds or other sorts of alignments. While the wickiup sites are visually impressive, they contain a rather small percentage of the hearths, earth ovens, and burned rock middens recorded during the survey. It seems that the wickiup sites are ancillary to nearby sites situated at lower elevations which contain most of the features suggestive of residential activities. When site and non-site archaeological fi nds are considered in relation to details of micro-terrain, interconnections among the various site types and isolated fi nds and features seem to be indicated.
Projectile Points Collected During Surface Survey at Chilicote Ranch, Presidio and Jeff Davis Counties, Texas
Jonathan Israel Rocha and Ayleen Alejandra Gutierrez
In June 2014, students from The University of Texas at El Paso conducted a summer archaeological fi eld school at Chilicote Ranch in the eastern Trans-Pecos region of West Texas. The ranch is owned and operated by the Ysleta del Sur Pueblo and serves as a working cattle ranch and recreational area. The project consisted of pedestrian survey work in areas of special management interest to the pueblo. The survey resulted in the identifi cation of 93 sites situated along and east of the Sierra Vieja. A total of 61 projectile points were recovered from 28 sites and a few isolated occurrences, indicating periods of land use ranging from the Early Paleoindian to Late Prehistoric. This paper discusses the chronological placement of the points, raw material types represented, and their associations with various site and feature types.
The Wages of Social Stratifi cation in 1939 in the Big Bend
Paul Wright
An analysis of the population schedules containing information on all persons enumerated in the 1940 census—the fi rst to allow for a study showing how social stratifi cation in the Big Bend both affected and was refl ected in earnings from wage employment— shows that ethnicity, gender, and years of schooling completed were huge infl uences on occupations and wages earned, but with much of the Anglo-Mexican difference due to appreciably higher education levels among Anglos. Wages rose with age until late middle age, but declined thereafter. Mexicans born in Mexico earned higher average wages than those born in Texas, irrespective of whether the latter had parents who were also Texas-born. Overall, there were considerable differences in average wages received by males vs. females, and Anglos vs. Mexicans, even when controlling for occupations. The data suggest a lack of a net upward mobility for the Mexican population through generations of residence in the Big Bend.
Letters to Castolon: Albert W. Dorgan and the Big Bend International Peace Park 1933–1943
Jason Abrams
This research explores the background of Albert William Dorgan (1887–1985) and his designs for developing an International Peace Park along the Rio Grande in the Big Bend, Texas. To the author's knowledge, Dorgan was the fi rst person in the twentieth century to codify the economic, political, and social arguments supporting establishment of an international park in the Big Bend. He also introduced the concept of "peace" as a guiding principle for the international park project. Dorgan's private correspondence, received at his home in Castolon, Texas, between 1934 and 1940, suggests that infl uential state and federal offi cials gave serious consideration to his maps and plans for development of an International Peace Park in the Big Bend.