Journal of Big Bend Studies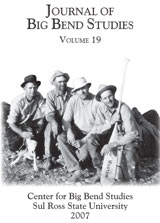 Robert J. Mallouf, Series Editor
Erin Caro Aguayo, Technical Editor(s)

©2007 Center for Big Bend Studies
256 pages
$15.00
Order Online   Order Form

Table of Contents
Luis and Melchor de Valdés, 1641 to 1666: A Case Study in Administrative Ingenuity
Rick Hendricks and Gerald Mandell
Capt. Diego Galiano entered allegations against the Valdés brothers into the Parral, Nueva Vizcaya court record on 5 January 1649. Filed in early January 1649, Galiano's bitter legal struggle against far more powerful adversaries dragged on until December 1660, at which time Galiano was physically and financially broken. In the end, the plaintiff was out-maneuvered by the crafty Melchor de Valdés and his two sons.
Love on the RioGrande: The 1850 Exploration by Captain Love
Matt Walter
Following the war with Mexico and the signing of the Treaty of Guadalupe Hidalgo in 1848, the United States sent out numerous expeditions to map the new border and to explore the new American territory. One expedition was led by Captain Love, who left Ringgold Barracks (opposite Camargo, Mexico) on the 11 March 1850 and proceeded upriver. With a crew of twelve men, Love traveled by water all the way up to the Big Bend region of Texas and then returned back to Fort Ringgold, arriving on 11 August. This expedition was reportedly led by Captain John Love from the First United States Dragoons. However, Captain John Love was not in Texas in 1850, and that expedition in reality was led by a civilian boat operator named Harry Love and employed by Major Chapman to run supplies in to Fort Brown. An erstwhile army scout and dispatch rider, Harry Love was familiar with West Texas and would later go on to found the California Rangers.
The 1855 Callahan Raid into Mexico: Pursuing Indians or Hunting Slaves?
John Gesick
James Callahan, a famous Texas Ranger, was also a member of the Knights of the Golden Circle, a pro-southern group that promoted secession and slavery. When Seminole Indians and Black Seminoles began to accept significant numbers of runaway slaves into their societies and Mexico allowed them to cross its borders and join the military, the practice of aggressive "slave catching" began in the United States, with catchers illegally crossing the border into Mexico. The debate over whether Callahan's infamous, destructive raid into Coahuila, Mexico was to pursue marauding Indians or capture runaway slaves remains inconclusive.
Trousset Travels the Lower Road: Five Pen and Ink Drawings from Early Texas
R.B. Brown
As an itinerant artist, Léon Trousset seemed to be continually in search of his place in the world. He was able to describe in specific detail the many places he visited—most of which can still be identified over 125 years later—but his cardboard figures and representations of the artist himself are stilted and lack the human dimension. As such, he may have been the prototypical artist who found beauty more in his surroundings than in himself or his fellow man.
Boredom, Fatigue, Illness, and Death: The United States National Guard and the Texas-Mexico Border, 1916–1917
Troy Ainsworth
The presence of the Army and the National Guard on the United States-Mexico border in 1916-1917 was an enormous military buildup designed to protect American citizens from the violence wrought by the Mexican Revolution. From June 1916 until America's entry into the First World War in April 1917, more than 158,000 officers and enlisted men were stationed in the Southern Department at strategic points from Brownsville to El Paso. Despite the great number of troops along the Rio Grande, the American military's mission reflected President Wilson's policy of "watchful waiting," a measure that precluded offensive action into Mexico and frustrated the servicemen and guardsmen stationed on the border.
Graham Barnett: Legend in the Big Bend
Jim Coffey and John T. Barnett
Graham Barnett was one of five children and was born on 28 August 1890. As a teenager, Barnett worked on his uncle's ranch and learned to shoot firearms. Graham had a natural ability as a pistoleer, and quickly became an expert shot. He spent most of his life in southwest Texas and the Big Bend until he was killed, on 6 December 1931, in Rankin, Texas, shot by sheriff William Fowler. At that time, Barnett was known throughout southwest Texas as a sharp shooter and fast draw. There are still questions over seventy-five years after his death on the minds of family and descendants and others interested in Texas history.
Factors Associated with Income: The Big Bend< in 1930
Paul Wright
Incomes for most nonfarm and many farm families in the Big Bend were estimated from data on value of owned housing and monthly rent contained in the 1930 manuscript census. This census provided broader national, state, and local economic contexts in which to interpret the analysis of estimated individual family incomes in the Big Bend. It revealed a generally prosperous Anglo nonfarm population even by national standards, although typical incomes of Mexican families were only a small fraction of those of Anglo families, with most living in conditions of severe to dire poverty. Implications of these findings for interpreting the contemporary material well-being of the Anglo and Mexican populations, and local dynamics influencing incomes are discussed.
Gayle "Western" Cunningham: From Local Cowgirl to Hollywood Movie Star
Gloria Duarte
Gayle "Western" Cunningham's various roles as a cowgirl, movie actress, fashion model, and businesswoman reflect the journey of a daring, talented farm girl from San Angelo, Texas, who made it as a movie actress. Gayle moved to Hollywood and starred in approximately fifteen western movies during the 1930s and 1940s. She returned to San Angelo, where she remained active until her death in 2004 at the age of ninety-six.
Henry B. du Pont: Industrialist and Pioneer Rio Grande River Runner
J. Raymond Skiles
Between 1941 and 1960, Henry Belin du Pont, Vice President of the E. I. du Pont de Nemours Company and outdoor adventurer, initiated a series of journeys by boat through the Big Bend canyons of the Rio Grande. With locals already familiar with the river and the region as companions, his groups were among the few then participating in recreational river travel on the Rio Grande. Letters and photographs by du Pont, Dudley Dobie, Guy Skiles, and Victor Bracher create a remarkable documentary of early river travel. These excursions illustrate the transition from rare and independent travel in heavy wooden boats to the post-World War II adaptation of rubber lifeboats as river craft, and were precursors to the modern private and commercial rafting and canoeing industry now well established in the Big Bend.
La Última Frontera: Photographs of West Texas
Jason Reed
La Última Frontera is a series of photographs that explores and documents the cultural artifacts of the vernacular landscape in West Texas. The ten images presented here were chosen to display a cross-section of the vast region, as well as to comment on the sense of place and time that is present within the land. These images represent a small selection from a larger body of work taken in a region consisting of approximately fifteen counties from the La Junta area of the Rio Grande to the cotton fields just east of San Angelo.
Comanche Springs Rock Art Documentation
Erin Watson
Lajitas, Texas is home to numerous Native American pictographs (41BS1500). These images range from rows of red and yellow triangles to unique handprint and animal motifs. Zigzag lines are a repeated theme, and an interesting panel of art is covered with incised cursive words over the paint. The art has faded over the decades. The Comanche Springs project was an effort by Erin Watson and her mentor from the Center for Big Bend Studies, Reeda Peel, to formally record the site as well as document its physical degradation.
The Davis-Herrera Ranch Site (41PS622) Presidio County, Texas
Brenda B. Whorton
Richard L. Gregg and Kenneth L. Fallwell, Contributors
The Davis-Herrera Ranch site (41PS622) was investigated during the 2000 Texas Archeological Field School in an effort to find the grave site of Francesca Davis, wife of the original owner. Unfortunately, the grave was never located, but one of the earliest ranching complexes of Presidio County was recorded, revealing a significant adobe structure with Spanish and Mexican antecedents. Two owners of the ranch filled patriarchal roles in the agricultural community and gave life to the freighting and ranching economy of the eastern Trans-Pecos.