Journal of Big Bend Studies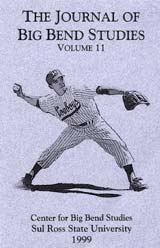 Robert J. Mallouf, Series Editor
Kelly S. Garcia, Technical Editor & Ann C. Kerr, Technical Editor(s)

©1999 Center for Big Bend Studies
190 pages
$15.00
Order Online   Order Form

Table of Contents
Archeological Data Recovery at Site 41BS908: A 9,000 Year-old Site in the Chisos Basin, Big Bend National Park
Thomas C. Alex
During the winter of 1992-1993, while monitoring reconstruction at the Chisos Basin Ranger Station in Big Bend National Park, park archeologists found the remains of a deeply stratified archeological site, 41BS908. Several discrete occupations were uncovered to a depth of 1.8 m below the ground surface. Archeological materials and pollen are well preserved within natural sediment layers. Charcoal was collected from eight hearth features at various depths and submitted for radiocarbon dating. Pollen samples were collected and analyzed. Human habitation at 41BS908 ranged from 6900 B.C. to A.D. 1830. The site has potential to yield excellent archeological information about prehistoric subsistence and use of natural resources, and substantial information about Holocene paleoclimate.
Jora Dart Points from Cueva Encantada, Coahuila, Mexico
Leslie F. Zubieta
Excavations at Cueva Encantada, a dry rockshelter in northern Coahuila, Mexico, provided a sample of contracting stem dart points that are typed as Jora. Jora points were first described by Taylor (1966) in his summary of the archeology of Coahuila. The metric characteristics of Jora and Arenosa points are compared. A Middle Archaic age, from 3200 to 4100 b.c., is estimated for both Jora and Arenosa types.
The Dating of Annular Middens from Surface Artifacts: A Problem from the Northern Trans-Pecos Region in New Mexico
Regge N. Wiseman
Annular or ring middens are a major cultural landscape feature in the Trans-Pecos region of West Texas and southeastern New Mexico. Their use started during the Archaic period but appears to have reached a climax during the Late Prehistoric period. Many of the annular midden sites in the Guadalupe Mountains district of New Mexico yield occasional fragments of Southwestern pottery, especially those types dating to the A.D. 1200s and 1300s. Several radiocarbon-assayed annular middens with surface pottery confirm the Late Prehistoric dating of those particular features. However, not all annular middens with surface pottery necessarily date to the Late Prehistoric period, as the following example demonstrates. These results have important implications for site assessments made during archeological surveys.
Comments on the Prehistory of Far Northeastern Chihuahua, the La Junta District, and the Cielo Complex
Robert J. Mallouf
Examination of private artifact collections in northeastern Chihuahua has aided in the recognition of tentative patterns in the distributions of stone projectile points and in the development of a preliminary regional chronology based upon projectile point styles. An overview of the Late Prehistoric Cielo complex is provided, along with previously unpublished chronometric data on the Cielo complex and the La Junta phase. Interpretive issues centering on sociocultural relationships of the Cielo complex to contemporary La Junta, Toyah, and Infierno phases of northeastern Chihuahua and Texas are explored. In contrast to past interpretations, La Junta phase peoples are suggested here as having origins that may be separate and distinct from peoples of the Jornada Branch of the Mogollon.
Fort Duncan: Frontier Outpost on the Rio Grande
Al Kinsall
When Sidney Burbank led his First Infantry down the Old Presidio Road, he had orders to establish a post where the road crossed the Leona, on the Rio Grande opposite the Spanish colonial presidio (now the villa) of Guerrero, Coahuila. After some consultation and a slight modification, Fort Duncan became a reality on March 7, 1849, on its present site, with Captain Burbank the commanding officer. The outbreak of the Civil War saw the Federals turn the fort over to the Confederacy in March of 1861. Fort Duncan was regarrisoned in 1868, with William R. Shafter as Commanding Officer. One of Fort Duncan's main claims to fame was the swearing in of the first Seminole Negro Indian Scouts into the U.S. Army on August 16, 1870. The government abandoned Fort Duncan in 1927, and by 1938 the City of Eagle Pass bought the fort for use as a historic site and public recreational area. In 1971 Fort Duncan was placed on the National Register of Historic Places.
Pushing the Mules through Guadalupe Pass: Pinery Station on the Butterfield Overland Mail
James T. Matthews
On the afternoon of September 28, 1858, the first Butterfield Overland Mail coach climbed into Guadalupe Pass and stopped at a new station about a quarter of a mile downstream from Pine Springs. The stage station known as the Pinery stood in the shadow of Guadalupe Peak surrounded by clusters of Ponderosa pine. When the first stage arrived in 1858, the station remained in a state of construction. Only a corral of pine timber had been completed. Yet less than 11 months later, in August 1859, the overland mail abandoned the Pinery in favor of a southern route along the military road through Fort Davis to El Paso. The abandoned station became a camping spot for travelers, freighters, and renegades. In the late 1870s it served as an army outpost. The ruins can still be seen near the headquarters of Guadalupe Mountains National Park. Despite its brief period of active service, the history of Pinery Station provides a unique view of the Butterfield Overland Mail in Texas and the development of the Guadalupe Mountains region.
Naming Practices among the Black Seminole of the Texas-Mexico Border Region
Mischa B. Adams
An anthropological perspective is used to examine Black Seminole naming practices. Most scholarly writing about the Black Seminoles has been historical in nature, rather than ethnographic. Seminole family relationships as represented by surnames recorded in genealogies, historical accounts, military and government census reports, and enlistment data appear to be so complex as to confound the specialists. A number of factors contribute to this complexity: traditional Native American and African practices regarding family names, the acquisition of Spanish names and language upon immigrating to Mexico, and the tendency of both historical and contemporary Seminole families to employ different surnames depending upon whether they reside on the Texas or Mexican side of the border.
Servants at Frontier Military Posts: A Glimpse at 'Domesticity' through the Letters of Alice Kirk Grierson
Mary L. Williams
All officers had servants. They could readily afford them and because of their privileged positions in society they were expected to have them. The hardships of frontier living made it all the more necessary for them to employ domestic help not only for themselves, but also for their families. This paper will look at the servants who lived and worked at posts in western Texas, in particular at Fort Davis during the 1880s, what was expected of them, and why many of them remained in the households of their employers for long periods of time. African Americans, either enlisted men, former enlisted men, or their wives composed the largest group of servants, although Chinese, Mexican American, and Anglos also worked for officers and their families.
Early Black Nationalist Movements in Texas
Bruce A. Glasrud
Black Texans have depended chiefly upon themselves for improvement and survival. Among the lesser known aspects of black Texas life is the fact that in the latter nineteenth and early twentieth centuries black nationalism movements flourished in the Lone Star state. These included migration to urban areas or other states such as Kansas. This paper is an effort to place a few of the movements in historical and social perspective. Some sought to survive and improve their status by joining movements which called for internal colonization, separation from whites, and emigration to Mexico or Africa. More than other groups, black Americans supported these movements which also promoted racial pride.
Beeves and Baseball: The Story of the Alpine Cowboys
Betty L. Dillard and Karen L. Green
Born before the Civil War, baseball rapidly grew in popularity, flourishing from city streets to wilderness dirt fields. In the Big Bend, soldiers at Fort Davis faced off against cowboys from neighboring ranches on makeshift diamonds in the desert. Alpine rancher Herbert L. Kokernot¹s legacy to his son was one of the largest and wealthiest cattle estates in Texas. His father also instilled in H. L. Kokernot Jr. an intense desire to give back to his community. His gift: the premier ballpark for his Alpine Cowboys, a championship team of locals and professionals who brought the thrill of baseball to the Last Frontier during postwar prosperity.