Occasional Papers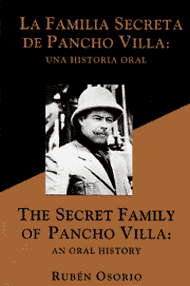 Rubén Osorio, Translated by John Kligemann
Robert J. Mallouf, Series Editor
Darleen Ramos, Editor(s)
Kelly S. García, Technical Editor(s)

©1999 Center for Big Bend Studies
256 pages
$20.00  $15.00 for Members  $10.00 for Lifetime Members
Order Online   Order Form

José Doroteo Arango, alias Francisco "Pancho" Villa, emerged during the Mexican Revolution as one of the dominating figures of that tumultuous era. His influence on the course of the revolution by his commanding presence as head of the Division of the North forever shaped Mexico's history and one of the 20th century's greatest social and political movements.
During the course of his revolutionary career, Villa emerged as a hero to Mexico's rural dispossessed and impoverished working class, as well as to Mexican nationalists. Subject of countless legends, myths, books, and movies, the epic career of Pancho Villa continues to intrigue historians around the world.
While much has been written on Villa's role in the Mexican Revolution, little is known about his origins and the forces that shaped his early childhood development and personality. Based on extensive oral history and personal interviews, Rubén Osorio has uncovered Villa's family lineage and background. Rubén Osorio's research testifies to the valuable contribution that oral history plays in rectifying historical inaccuracies.
Osorio's research spans the Mexican countryside including the states of Chihuahua, Durango, Mexico, Coahuila, and Jalisco and includes in-depth interviews with many surviving members of the Fermán and Quiñones families. Osorio is no amateur to the field of oral history, having conducted over 300 hours of personal interviews with former Villistas and other important players in Chihuahua's revolutionary history. Included in these interviews are some of the few recordings of Villa's wife Luz Corral de Villa and his adopted son Francisco Piñón.
These first-rate interviews have laid the foundation for an expanded wealth of knowledge for scholars of Villa, his life, and the events which shaped Chihuahua's history and that of Mexico and the United States. It is a welcome addition to historians of Mexico's heroic past.
Bilingual Edition!