Occasional Papers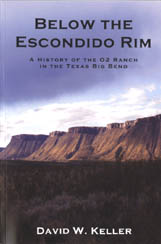 David W. Keller
Robert J. Mallouf, Series Editor
Kelly S. García, Technical Editor(s)

©2005 Center for Big Bend Studies
261 pages ISBN: 0-9707709-3-6
$20.00  $15.00 for Members  $10.00 for Lifetime Members
Order Online   Order Form

This study surveys the century-long history of the vast O2 Ranch located in the Big Bend of West Texas with a special focus on the land, the people, and the institution. Founded in 1890 by W. W. Turney, the ranch grew rapidly between 1905 and 1921 to include more than 240,000 acres.
Although it enjoyed periods of marked success, recurrent drought forced severe reductions in livestock causing the ranch to be foreclosed on by Aetna Life Insurance Company in 1936. In 1941, Lykes Bros. Steamship Company purchased the ranch and for the next 25 years it was operated by Lykes representatives.
Despite extensive improvements, including water development and diversion projects, intense drought and marginal profits led the Lykes to lease the ranch in 1965. For the next 30 years the O2 was operated by one of the largest cattle partnerships in the state.
Since the termination of leases in 1998, economic strategies such as hunting, ecotourism, and conservation easements are being explored in an attempt to generate new sources of income and improve the quality of wildlife habitat.