Trans Pecos Archaeological Program (TAP) Publications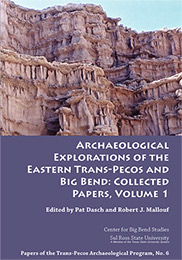 Pat Dasch and Robert J. Mallouf, Editors
William A. Cloud, Series Editor
Erin E. Caro Aguayo, Technical Editor(s)

©2013 Center for Big Bend Studies
261 pages ISBN: 978-0-9824096-0-2
$33.00  $25.00 for Members  $16.50 for Lifetime Members
Order Online   Order Form

Table of Contents
Diagnostic Artifacts of Paleoindian and Early Archaic Cultures in the Eastern Trans-Pecos Region of Texas
Robert W. Gray
Examination of private artifact collections in Jeff Davis County, Texas, and adjacent areas of the eastern Trans-Pecos region has aided in the recognition of early stone projectile points. Comprised of 66 Paleoindian and Early Archaic specimens, the study collection is analyzed and described providing researchers a basic data set concerning typologies, spatial distribution, and elevational patterning. The specimens are reviewed and discussions offered about the early cultures responsible for their manufacture in far West Texas.
The Elusive Calf Creek Horizon in the Big Bend
Richard W. Walter
The recent discovery of an Andice type dart point within an eroded hearth in Green Valley, Brewster County, Texas, has stimulated inquiry into the poorly understood Calf Creek culture in the Big Bend. The Andice point type is recognized as one of three overlapping varieties of deep basal-notched Middle Holocene projectiles believed to be affiliated with the Calf Creek cultural horizon in portions of Texas, Oklahoma, and Kansas. While Andice points have a documented presence in the Big Bend, their relationship to the Calf Creek cultural phenomenon to the east and northeast of the region remains unresolved.
The Zodiac Cache: A Middle Archaic Toolkit from Green Valley, Presidio County, Texas
Robert J. Mallouf and Homer F. Mills
A utilitarian lithic cache discovered recently in Green Valley, Presidio County, Texas, contains eight specimens: both unifacial and bifacial end scrapers, a large bifacial preform, a bifacial knife, a flake blank, and a Middle Archaic (ca. 2500—1000 B.C.) dart point. Essentially comprising a small, portable toolkit, the Zodiac Cache is one of only two documented Middle Archaic cache assemblages from the Texas Big Bend. The feature provides much needed insights into technological and subsistence behaviors for a poorly known period in regional prehistory.
A Case Study of Greenstone in the Davis Mountains, Texas: A Possible Source for Lunate Stones
Richard W. Walter and Antony N. Giles
Lunate stones are crescent-shaped, ground and polished stone artifacts with a series of notches usually present on the dorsal, convex ridge. Lunate stones are often funerary objects of Late Archaic burials within the Southern Plains of Texas. Most lunate stones are made of "greenstone," obviously obtained or traded from outside the Southern Plains. No positive identification of its source area(s) has been made, but researchers have tentatively linked this material to an igneous rock (Gomez Tuff) of the Davis Mountains in Trans-Pecos Texas or to igneous stone sources of the Ouachita Mountains of southeastern Oklahoma. Comparative trace element analysis of lunate stone artifacts from Garza and Crosby counties with naturally occurring, silicified Gomez Tuff from the Davis Mountains has been conducted using the Inductively Coupled Plasma-Mass Spectrometry (ICP-MS) method. A review of lunate stones and findings of trace element signatures is presented.
The McHam Cache: A Prehistoric Stone Assemblage from Calamity Creek, Brewster County, Texas
Robert J. Mallouf
A lithic cache was discovered during a 1996 Sul Ross State University Summer Archaeological Field School near Elephant Mountain in Brewster County, Texas. Comprised of 15 bifacial preforms and two large flakes, the McHam Cache was found inside an open prehistoric campsite on a terrace of Calamity Creek, a significant drainage system of the Texas Big Bend. Largely exposed on the terrace surface by sheet erosion, the feature is one of only a few utilitarian caches reported from the region, and is inferred from several lines of evidence to have a Late Archaic (1000 B.C.–A.D. 700) origin. The cache assemblage is described and aspects of prehistoric caching behavior in the Big Bend are explored.
Distinctive Structural Remnants at the Double House Site, Brewster County, Texas
William A. Cloud
The Double House site (41BS1499), an open prehistoric campsite in west-central Brewster County, contains two distinctive structural remnants exposed on the surface. Characterized by clustered stones in semi-circular arrangements, the remnants represent a style of habitation not previously documented in the Big Bend region of Texas. Investigations at the site, including controlled excavation of one of the structures, have yielded data suggesting these constructions were used during either Late Archaic or Late Prehistoric-Protohistoric times.
Some New and Revised Projectile Point Classifications for the Eastern Trans-Pecos and Big Bend Region of Texas
Robert J. Mallouf
The eastern Trans-Pecos/Big Bend is home to a daunting array of stone projectile point styles, many of which are inadequately studied with respect to technology, chronology, and cultural affiliation. When working with point assemblages from the region, archaeologists have tended historically to assign point types on the basis of interpolation from better studied adjoining regions—particularly west-central Texas, south Texas, and the Lower Pecos River. An intensification of regional research during the past decade, however, has resulted tangentially in the refinement of typological categories. Moreover, enhanced data sets have allowed identification of two previously unrecognized arrow point types, the formalization of a third arrow point type, and the resurrection of a dart point style that had fallen into general disuse. A past proclivity on the part of researchers to "force" these point styles into pre-existing inter-regional typological categories is duly noted.
An Overview of the Rock Art at Cosmic and Cascade Rockshelters, Presidio County, Texas
Reeda Peel
Rock art research comprises a significant element of the Trans-Pecos Archaeological Program (TAP) of the Center for Big Bend Studies at Sul Ross State University. Two sites, Cosmic Rockshelter and Cascade Rockshelter, provide good examples of the rich and varied rock art available for study in the Big Bend. Both shelters are small and secreted, yet both contain multiple superimposed layers of representational and non-representational art. While linkage of the art to specific time periods and/or cultures is not currently possible, detailed documentation of these and other Big Bend rock art sites is geared toward acquiring the kind and quality of data needed to enhance interpretive potentials through comparative analysis.
The Dancing Rocks Petroglyphs: Horse Nomads in the Sierra Vieja Breaks of the Texas Big Bend
Robert J. Mallouf
A recent discovery of historic Indian petroglyphs among small, clustered igneous boulders in a remote and wildly rugged area of the Texas Big Bend is discussed. The location and setting of the site, in combination with minimal but idiosyncratic imagery, suggests a cultural linkage with horse nomads within a ritual context. The find has implications not only with regard to our understanding of historic Indian adaptations, but to basic archaeological survey methodologies as well.