Occasional Papers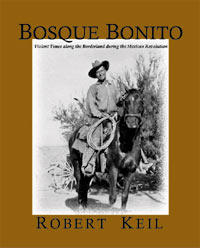 Bosque Bonito is a first-hand account written by Robert "Bob" Keil, a U.S. cavalryman stationed in the Big Bend during the violent years of the Mexican Revolution.
From 1913 to 1918, Keil lived in the borderlands along the Rio Grande in the wild and primitive Big Bend country of West Texas. He was living the life he had longed for, and he himself said later that his years in the Big Bend were the happiest and wildest years of his life.
But they were also years of violence, and he would remain haunted throughout his life by the tragedies he had witnessed. The beauty and tragedy of Keil's river experience were powerfully impressed upon him, and they continued to hold him captive as time and again he wrote the story.
After serving in the Eighth U.S. Cavalry on the border from 1913 to 1918, Keil remained in the Big Bend to work as a Civil Service packer for two additional years under Charley Coward, U.S. Army pack master. Keil had a deep affection for animals and loved working on the pack trains.
Keil's testament offers new interpretations of the troubles along the border, interpretations that, although familiar in Big Bend oral history, have not been represented formally in written history. He discusses significant sociological information about the lives of both Mexicans and Americans during that time, and their interactions.
Specific events discussed include the Brite Ranch raid, the Porvenir massacre, and the Nevill raid as well as the pursuit of bandits into Mexico and the ransoming and rescue of two American aviators by Captain Leonard F. Matlack. This book is a must-have for anyone interested in the borderland region in the early twentieth century.