Occasional Papers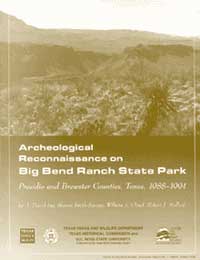 J. David Ing, Sheron Smith-Savage, William A. Cloud, Robert J. Mallouf, with contributions by Leslie C. Shores, Peyton Wright
Robert J. Mallouf, Series Editor
Sheron Smith-Savage and Ann C. Kerr, Technical Editor(s)

©1996 Center for Big Bend Studies
261 pages
Out of Print
Archeological reconnaisance was conducted from 1988 to 1994 by the Texas Parks and Wildlife Department and the Office of the State Archeologist, Texas Historical Commission, on Big Bend Ranch State Park (formerly Big Bend Ranch State Natural Area).
Located in the Texas Trans-Pecos a few miles west of Big Bend National Park, in the northeastern Chihuahuan Desert, the park consists of approximately 270,000 acres of relatively high desert shrub grasslands, low mountains, deep canyons, the singular geological feature known as the "Solitario," and 22 miles of frontage on the Rio Grande.
The primary focus of the reconnaissance was to determine the general nature of the historic and prehistoric cultural resources found there and to choose areas for public recreational development and staff facilities that would not compromise significant archeological or architectural resources. Visitor use and operational locations are described according to their proposed functions.
One hundred seventy-nine archeological sites were recorded during the reconnaissance. The sites are described by functional or physical characteristics, such as open camps, rockshelters, quarries, and historic ranching. Diagnostic artifacts, and probably related sites range from Late Paleoindian through the entire prehistoric period, including three sites of the Late Prehistoric Cielo complex.
Historic sites and artifacts are mostly associated with nineteenth- and twentieth-century ranching, although a few glass trade beads and majolica sherds may date to the earlier Spanish Colonial period. Management recommendations are made to continue and intensify all phases of archeological, historical, and archival research before the park is fully opened to the public.