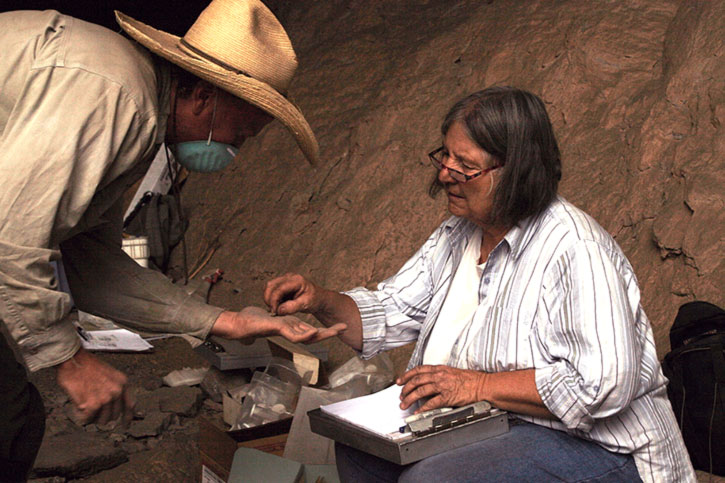 Andrea Ohl
Archaeologist
Center for Big Bend Studies
Sul Ross State University
Ferguson Hall, Suite 114, Box C-71
Alpine, TX 79832
Phone: 432-837-8179
Fax: (432) 837-8381
Email: cbbs@sulross.edu
Andrea Ohl
Andrea earned a B.A. in anthropology from the University of New Hampshire in Durham. She wrote her thesis on the prehistory of the upper Connecticut River valley and published several articles regarding her research. She was employed as an archaeologist in New England for seventeen years at Dartmouth College as a field school assistant and for several CRM firms as a surveyor, excavator, researcher, and writer. Andrea moved to the Big Bend in 1993 to begin construction of an earth-sheltered adobe house in the Christmas Mountains. She began working for the CBBS in 1997 on surveys, excavations, CRM projects, research, and writing. She has written CRM reports for the CBBS, and her book, The Paradise Site—A Middle Archaic Campsite on the 02 Ranch, was published in 2006. She continues to build her house, and research and write about the Middle Archaic period in the eastern Trans-Pecos.
Selected Publications
D.W. Keller, S.S. Cason, W.A. Cloud, R.W. Gray, R.W. Walter, T.C. Alex, B.L. Alex, R.D. Boren, Andrea J. Ohl, and R.J. Mallouf
in prep A Sampling of Archeological Resources in Big Bend National Park, Texas.Center for Big Bend Studies, Sul Ross State University.
Ohl, Andrea J.
2012 Filling in the Blanks for the Middle Archaic Period. La Vista de la Frontera 23:4-5.
Ohl, Andrea J.
2011 Middle Archaic People of Eastern Trans-Pecos Texas: Their Life and Times 2500–1000 B.C. Journal of Big Bend Studies, 23:63-93.
Ohl, Andrea J.
2006 The Paradise Site: A Middle Archaic Campsite on the O2 Ranch, Presidio County, Texas. Papers of the Trans-Pecos Archaeological Program, Number 2.